Where now for Devolved Labour?
Devolution has changed the fortunes of the Labour party dramatically in the past decade.
As the party that brought devolution into being and started the ball rolling, it's time to look back and reflect on the party's role within the devolved nations and renew.
Scotland and Wales are maturing as political entities and the fortunes of the Labour party are no longer tied to a national consensus. The most striking evidence for this is Labour's ultimately successful campaign in Wales and its disastrous defeat in Scotland. So why has this happened and where do we go from here?
Firstly, why has this happened?
The New King of Scotland?
Well there are a number of reasons why in Wales and Scotland voters have chosen such radically different paths. But the most obvious one, is personalities. Alex Salmond has long been viewed as a shrewd politician and a veritable vote winner. On the other hand Plaid's Ieuan Wyn Jones has been an effective minister but has lacked the wider appeal of Salmond. But to focus on the opposition personalities is to deny Labour's shortcomings.
Carwyn Jones has followed in the footsteps of Rhodri Morgan, who is frequently referred to as the "father of the Nation" and is symbolic for defining the embryonic days of Welsh devolution. Carwyn has stepped into his shoes well, taking the Labour leadership comfortably and continuing the Welsh brand of Labour (more on this later). He has also been allowed a platform in the referendum on March the 3rd that gave him the opportunity to lead and the result gave him some of the appeal that Rhodri had in becoming Wales' flag bearer. Thus, when the Welsh voter came to think of who best would serve Wales, Carwyn was the obvious choice.
Scottish Labour on the other hand has seen something of a brain drain. Its most prominent figures traditionally have gone to Westminster to represent Scotland in London rather than to represent Labour in Scotland. This is in stark contrast to Labour in Wales where many leading lights (Rhodri Morgan, Ron Davies (now Plaid), Alun Michael, and now Carwyn Jones) have seen the Assembly as a place where they can make a difference. This is likely to increase as a result of the constituency reduction planned by David Cameron and his pals the Lib Dems. Scottish Labour has been seen as complacent (even if that isn't the case) and that is never a vote winner.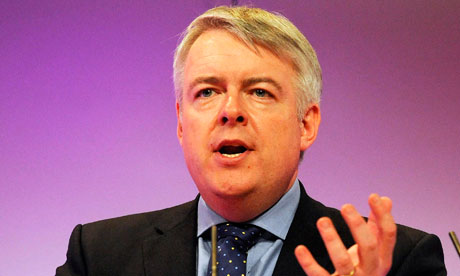 Following in Rhodri's footsteps?
The second most obvious difference is Welsh Labour's distinctive agenda. It is true that in Wales the print media is very weak and this in general serves to limit real debate, however this has also made Wales unappealing to the Fleet Street papers, letting significant policy diversion get in under the radar. Rhodri Morgan, following New Labour's Third Way Agenda, sought to create what he labelled 'clear red water'. This was a rejection of both old and new labour, and the creation of a Welsh social democratic philosophy (much of which has been picked up by other parts of the UK; Bus passes, Prescriptions etc). This is fundamental in understanding the difference between Scotland and Wales...
In Scotland, the Conservative cuts have been answered by the SNP's use of social democratic policies of a similar nature to Wales, which have proved popular. Therefore when the time came to decide who was best positioned to "Stand up for Scotland" the obvious choice was the SNP, especially for disgruntled Liberal Democrat voters who leaned more to the Left. This is a radical departure for Scottish politics, but not something entirely surprising. Labour simply failed to take on the SNP on its own centre-left ground, and frequently let tribal politics get in the way of policies that are genuinely progressive and radical. Welsh Labour's attempt to reconcile the New Labour agenda with its core support whilst still being able to attract Lib Dem supporters who might otherwise have voted Plaid Cymru.
The Constitution
The ultimate elephant in the room for Labour across the whole of the UK is the constitution. When the policy was accepted and given a mandate by the people of the devolved nations in 1997, little thought was given to the end game. Devolution it was said, is a process not an event. If so, then where is the process going? The SNP have consistently outflanked Scottish Labour on constitutional issues, driving the agenda and forcing concessions (Scotland Bill) begrudgingly from the unionist parties. As a result of this, many in Scottish Labour view the SNP as their arch-enemy, and allow tribal politics to dictate what decisions they make. Out-doing the SNP has become more important than radical, progressive politics that the Labour party was originally founded for.
Father of the Nation
Contrast this with Wales, where the most recent constitutional development has been driven by Carwyn Jones and Welsh Labour, with the effect of disarming Plaid Cymru and allowing swing voters in potentially Labour/Plaid Cymru seats (Llanelli for example) to feel safe voting Labour to stand up for Wales, which certainly was not the case in Scotland. This is largely due to Welsh Labour becoming increasingly small 'n' nationalist, with many in the party (including the First Minister and many of his closest colleagues) feeling instinctively comfortable governing with Plaid Cymru in coalition (indeed Owen Smith as recently as yesterday is quoted saying "
We've worked well and happily with Plaid over the past four years. It's perfectly possible we could go down that road again
").
Ultimately the
clear red water
agenda has proved popular and in the 2011 election under Carwyn Jones, successful.
So Where Next for Devolved Labour?
In both Wales and Scotland there is an onus now on being bold. Welsh Labour has the ball very much in its court. It should be focusing on transforming Wales into the progressive country it wants to be, and should not be over cautious in seeking further constitutional concessions from the UK government in order to put these ideas into effect. The people of Wales have invested a great deal in a Welsh Labour government and under the AMS electoral system they could quite easily punish Labour for not providing results next time around.
In Scotland, Labour must regroup and rediscover their raison d'être. A bold alternative philosophy for Scotland's future would be required to challenge Salmond for the monopoly on good ideas. Younger politicians must also be encouraged to find their feet in the Scottish Parliament to benefit Scotland, rather than focus on Westminster as the route to success.
Prescription
UK wide, there must be a willingness to confront the constitutional issues and move towards creating a federal party. A centralised approach to decision making within the party will not fit in a decentralised and devolved world. Labour in Wales and Scotland cannot become mirrors of UK policy that could have been, if not for the election defeat in 2010. They must seize the initiative and create innovative policies for Welsh/Scottish problems. Simply giving devolved leaders a seat on the NEC is not enough; there must be recognition of the multi-nation nature of the UK state and Peter Hain's "Refounding Labour" provides a fantastic opportunity for ambitious party reform to achieve this.